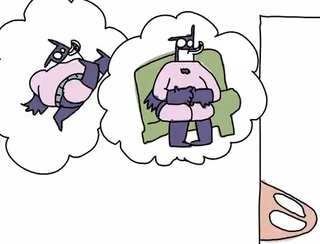 Piderman's Thoughts are thought bubbles containing Baman and Impostor Baman that first appeared in Revealations.
Character Bio
Edit
Piderman's Thoughts are very bizarre in that they can be shoved around as real objects, continue to exist, appear to age, and are visible to others. In Weirdy Feeling, Baman has a very serious existential crisis upon seeing Piderman's Thoughts. He goes through what looks like several different dimensions and is very frightened, and then eventually snaps out of it. In Revealations Part 2, Pumkin is seen feeding the thought bubbles before he and Piderman go on da journey. In Play Da Concert, Piderman first refers to one of Piderman's Thoughts (the one made from Impostor Baman who won't eat) as "Skinny Thought Bubble Baman." On seeing that Bubble Baman won't eat, Wanda thinks up a Bubble Piderman who feeds Baman
Appearance
Edit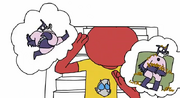 The thought clouds mostly remain the same with a constant loop of
Baman
's movement in the left cloud and
Impostor Baman
's upright sitting in the right cloud. In the image to the right, one can see food that Pumkin feeds them in one episode. The image to the left, can eat the food therefore not having any remaing morsels.
Episode Appearances
Edit
Appearances
Edit
"la la la la la" - seemingly the only noise made; this comes from the real Baman cloud while he rolls aimlessly through eternity.